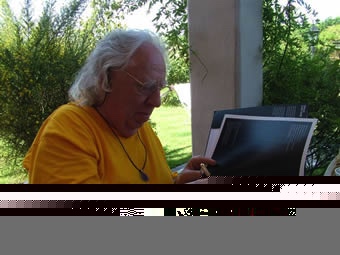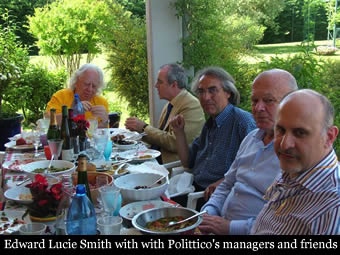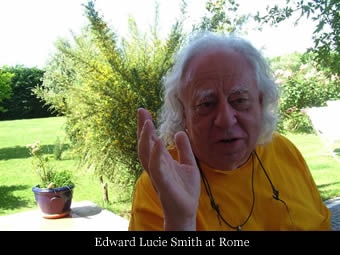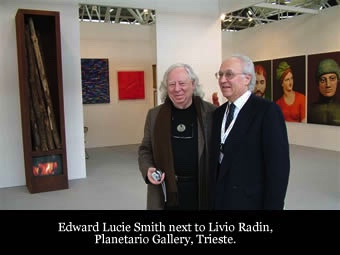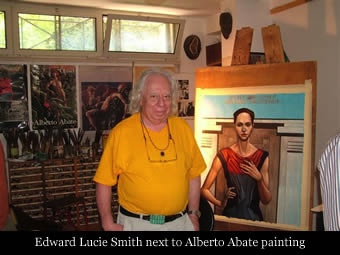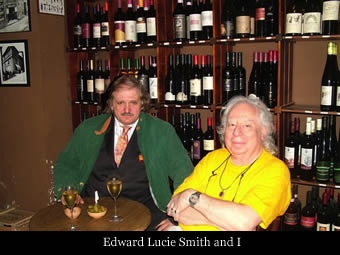 .::
 Talking with Edward Lucie Smith, the greatest omniscient lyrical merciless
.:: unforeseable codifyng living modern art historian. 
.:: Sometimes bloodstained Arena, sometimes puppett Theatre:
.:: the backstage intrigues in modern art.
If you think that the most world travelling man is the President of the United States George Bush or President Vladimir Putin or Microsoft Corp. Chairman and Chief Software Architec Bill Gates you simply are wrong.Maybe not in its nucler weapons or in trans-national terrorist attacks but in a so much more fundamental dimension- like beauty and creativity- the world it's under control of a man called Edward Lucie Smith.
Regarded as the most prolific and the most widely published writer on art(with sales for some titles over 300.000 copies)with a number of his books- among them "Movement in Art since 1945""Visual Arty of the 20th Century""A Dictionary of Art Terms and Art Today"used as standard texts through the world,curator of a innumerable series of exhibitions and retrospectives,jury member of an endless numer of Biennals and Prize exhibition among which Liverpool,Cairo,Sharjah,Alexandria,Belgrad,but also famous poet and great photographer,you cand run into him in conference at the Macedonian Museum of Contemporary art presented as the"most distinguished name on the world of art stage",the day after in China to glimpse a new talent and the next week at dinner in the delightful roman countryside at Alberto Abate's home,one of his favourite italian painters,with Arnaldo Romano Brizzi and Massimo Caggiano the distinguished owners of Polittico,his reference Italian Gallery, so remarkable in publishing many books with which he takes italian creativity-as in the rest of the world-under control.
In a art world full of creeps and bigheads sometimes his opinions could appear merciless.
Edward is not merciless,it's only realistic.The (a little bit)sorrofowl realism you have when you are omniscient.
The most famous english art historian of our recent time,David Sylvester, in reality was -I think-only a journalist.And not so indipendent and clayrvoiant as his legend claims,I'm afraid.
"David Sylvester was brought up in a tradition that thought France and French art was the be-all and end-all, Paris provided all the answers etc. He was never very good on American art, which was the dominant force through most of his career as a critic.
Maybe good on artist like Magritte,certainly good on Soutine, who was, like David, Jewish. He could never make up his mind about new stuff and frightened to be wrong, or to be contradicted, by people he was afraid of [like Francis]. Greedy. "
And his mythological relationship with Bacon-Marlborough?(very overvalued,with all my respect.In a enlightening interview with Francis made by Sylvester for BBC at a certain point you can hear the painter , speacking softly ,(but not enough)confess"All bullshits.." (we are sayng..)
"I think he probably had a corrupt relationship with Marlborough. A lot of the interviews were heavily corrected and rewritten by Valerie Beston, who looked after Francis at Marlborough. In other words, if the interviews are his most celebrated work Sylvester was nevertheless only a ventriloquist's puppet for Bacon and Beston, writing what they wanted him to write. These aren't the ingredients that make a great critic. "
It's a little funny, and sometimes incomprehnsible, english art critic scenary.A famous art critic like Brian Sewell use to try the most famous and powerfull art english leading figure, Sir Nicholas Serota,(called "The Pharaon ") like a dement.You can say what you want about Serota but the new Tate Modern it's so mearvellous to became the unvoluntary greatest Cathedral-sculpture of our age, even competitive with its own items……besides he had been the only londoner authority to show the sensitivity to go to the funeral of the poor Bacon's long companion,John Edward.
"Brian comes from the Courtauld, was a pupil of Anthony Blunt, then a cataloguer at Christie's, then a dealer in Old Master drawings. He thinks a great deal of contemporary art is rubbish, and that Serota is a charlatan for promoting it. He has written well about Bacon – look it up. He wrote a good essay on Carl Andre – big surprise there.
He is incorruptible as a critic I think. I used to do a lot of business with him when he was at Christie's. In other words I knew him well before he was the Sewell we now know. That makes him uncomfortable nowadays with me. Also he knows I know about his dealings with the client [in his Old Master drawing days].
Thanks for the scoop…we have also to say that thoungh even him was fooloned by the famous master drawings faker Hebborn he was the only one,at that time,who immediately had some doubts…amazing the connection with Anythony Blunt;Francis was bewitched by the connection art- and -spyng which emerged in Blunt's life…when I presented him the catalogue produced by an idea of Anthony Blunt about the "Bolognese drawings in the collection of her Majesty the Queen" he was stunned by the scream of"Head of Marsyas"by Guido Reni and exhilarated that nothwistanding all the celebities who cooperated to the work -a part Anthony Blunth himself (Otto Kurtz,Denis Mahon,Rudolf Wittkower..)the title was wrong.In italian you must write BolognesI drawings,not BolognesE,referred to the cultural enviroment,if anything.
I forgotten to ask you what do you think about Serota's Turner Prize.
"Serota used it to offer recognition to a new generation of artists and at the same time generate publicity for the Tate. They've now made their way through the A List – the big names of the 90s, and everyone is getting bored. One problem is that it's impossible to shock the audience any more – 'shocking art' has become at convention in itself. The same thing happened in Italy in the 1570s/1580s, as Mannerism came to an end. The only shock left was extreme Realism, hence Caravaggio and the young Annibale Carracci. Do you know Annibale's wonderful 'The Butcher's Shop' in the gallery at ChristChurch, Oxford? But even that has a precedent – in Passerotti, from your own Bologna."
Was one of the preferite Bacon's italian painting……In a legendary art essay about Francis works on paper you wrote: "This fact in itself rather puts paid to the argument I have heard put forward by Michael Peppiatt, one of Bacon's biographers, that the Joule archive can't be genuine because Bacon was careless with possessions, and would certainly not have hung on to items of this sort as he moved restlessly from studio to studio before finally settling in Reece Mews in 1961. "
I was surprised how much his famous "Anatomy of Enigma " was traced on Farson's and Sinclair's Bacon biographys (a part very moving and original sections where ,for instance, Francis confessed his powerless desperation in George Dyer's suicide) and stunned by a grotesque fake showed inside (a suppoused portrait of Apollinaire) given by Marlborough and finded by the two years in prison sentenced for forgeries italian art critic Maurizio Fagiolo dell'Arco who, in a taped interview that still I conserve , even didn't remembered where he finded the drawing… (if in Spanish or in Switzerland…and it would have been the first Bacon's officialy finded sketch out of the Studio! ) and was so frightened by my questions to promised me any authenthications free I neeeded…if I didn't quote him !Anyway, the Peppiatt's bioghrapy it's the most complete about Francis. So how could he made a mistake about Barry Joule ?
"Don't understand about Peppiatt. He got it wrong, that's all. The Joule material came from Francis's studio without a doubt. Which means that Francis had saved it till the moment – very late – when he handed it over to Joule. Careless? All the evidence points the other way – he hung on to things, rather than chucking them out. Peppiatt bought the 'public Francis' – the carefully constructed myth. I suppose one problem is that Peppiatt is straight."
I cannot hint to Barry Joule Archive for obvious reasons.. given my personal case about painter's drawings it would turn in another interview…let me only say that his canadian handyman flattered himself to fascinate Francis with his intellectualisms(that Francis disliked,as his blond toupee)but his real chance was………he was REAL madly in love with the painter.
Wasn't Jhon Edward,who loved his boyfriend Phil Morgue(still now handsome,I have to say,and unjustly criminalized by english press)wasn't George Dyer who loved above all the bottle,wasn't the Spanish Lover JOSè who was ashamed to be omosexual..in passim I don't believe rumours he had stolen the drawings by the Studio when Francis suddenly died in Madrid……well, he had the key of the Studio and nobody at that time could control what his neighbor was doing………but what matters is underline that even if all the perfectionist cretive life of the painter lead us to think that the famous words of Bacon "You know what to do" were in distructive sense Joule maybe had been right in not respecting his will……you would be pleased to have also discarded, smaller, hurried papers, occasional scrowls by Velasquez and Michelangelo?I think yes,like we all. Turning back to art critic scene nowaday…… what about Robert Hughes,the long-time celebrated Time magazine art critic,I think his "Frank Auerbach" with brilliant flashes like :"He could do things with line that he could not manage in paint.Drawing is a more experimental medium than painting" was cool.
" Bob Hughes is a bit like Brian Sewell, who writes for the Evening Standard here in London – better on negative judgments than on positive ones. Bob's great personal favorite, the Israeli painter Avigdor Arikha, is really too lightweight to count for much when put in the scales against currently fashionable avant-garde figures like Damien Hirst or Jeff Koons. I hear Arikha talks very seductively about art – but talk isn't the same thing as painting. Bob uses researchers, who sometimes let him down. There is some surprising factual slips in his much-praised book 'Nothing If Not Critical'. Brian Sewell, on the contrary, is invariably extremely well-informed, with real depth of information. Whether or not one agrees with his conclusions. It is unwise to argue with him about the facts. And the research is all his own.As for Hughes's other favorites, I think Auerbach has become very mannered, and Freud is also in decline. "
Lucien Freud in decline? Sacrilege!
" Well…all too often he overworks his paintings. One oddity with Freud is his insecure sense of composition. The big pictures, till recently, were often strong compositions, but the little ones usually don't work – all those miniature portrait heads wobbling about in a pictorial space to which the form of the head is quite unrelated. He has little sense of the importance of the edge: the place where the picture stops. "
Last on David Sylvester…he become the reference journalist of Francis Bacon. Very bad. I think Jeffrey Bernard was much more better.
"Years ago I used to work in an advertising agency with Oliver Bernard, Jeffrey Bernard's brother, and I also knew the other brother, Bruce Bernard, though not well. Oliver and Bruce always treated me with a degree of ill-concealed condecension [I can't spell this word!] – I think because they thought I was terminally bourgeois. Naturally I didn't like it. I never knew Jeffrey but I suspect we would not have been friends had we met. I don't believe that the fact that you live a bohemian life-style confers automatic superiority to the values and opinions of the rest of the world."
The only thing I don't understand between you and Francis was…more than why you didn't became mearvellous lovers (sorry for my impudence) why you moved out of his life…why –such a great sensitive omniscient art historian like you – left all the space to such an awful mediocre kack (radio- cultural-controlled) like Sylvester….(again..I apologize with his ghost…)
"I avoided Francis, whom I only ever saw at parties given by the Gimpel family, for several reasons:
1. I am not good with great celebrities. They seem to me encased in their fame, like Barbie dolls in their plastic coffins, and I never know what to say to them. Praise sounds sycophantic, criticism, sounds impertinent. In other words, I got to FB too late to make any kind of human contact with him.
2. Rather like the aging Picasso, Francis in London had what the Spaniards call a tertulia, a band of dependents and clients [clients in the Ancient Roman sense], whom he indulged but also tortured…
I deeply understand what you mean….
…. "I really had no wish to become part of that circle and to have a forced association with that particular group of people.
3. Whenever I had even the briefest exchange with Francis, the form it took was that I would incautiously mention some other artist, or some writer, and Francis would say something cutting about them. One gets tired of that very quickly.
4. I am not a big drinker, and in particular I have an allergy to wine. More than three glasses of most wines [not champagne for some reason] and I start sneezing uncontrollably. Too much alcohol of any kind plunges me instantly into depression, with no intervening period of euphoria – the more I drink the less I want to talk to people. At the end of a long party I'm generally sitting in a corner, completely mute, and aware that I have to drink several liters of water immediately if I am going to function at all the next day. In other words I'm a classic party pooper, with a very limited tolerance for people in large groups. I used, when I was young, to have a very hard head, as we say in English – an ability to drink a lot without much apparent outward effect – but I lost this after a bout of hepatitis in the early 1970s. Even in the days when I did drink, I never got much out of it.
5. During most of the period when I had the possibility of access to Francis [we lived quite close to one another] I was an extremely closeted homosexual. I found Francis alarming – he freaked me out.
6. I thought he probably disliked my reviews of two big retrospective shows of his work that I covered as a journalist [in 'The Listener']. Basically I compared him to Fuseli, a key figure in the late 18th/early 19th century sturm und drang, who wasn't as much respected in those days as he is now.
It is true that I don't like a good deal of the very late work, particularly the series showing dwarfish figures dressed for the game of cricket. It was only after FB's death that I learned that these were supposedly inspired by Francis's fascination with the swaggering, ultimately butch cricket hero of that period, Ian Botham. Well I suppose I can't blame him for lusting after Botham, who when young was testosterone on two legs, and very much aware of the fact. "
There had been a period in which Kitay was believed to became Francis successor. How far is that time. He made you a famous portrait.Was a painting or a drawing?
"A drawing. Unfortunately I had to sell it to pay a tax bill – I never thought it was a good likeness but it was a pretty good drawing .I have been painted or drawn by all sorts of people – most recently by Philip Pearlstein, also by Tom Phillips and a number of times [a painting and some drawings] by my friend Michael Leonard, who is a classical realist. His painting of me is the likeness I prefer. Maybe too conservative for you. I don't think I have a scan, but can ask Michael, who is coming to lunch today.
Where Kitaj is concerned I think the work has degenerated terribly in recent years. He had a period when he was good, but pretty long ago now. His big retrospective in London was a disaster as you perhaps know. I was so happy I didn't have to review it. Since then things have got worse, with his rage about the bad reviews and his conviction [absurdly egotistical] that the anti-Semitic malice of the English critics was the cause of the death of his wife Sandra, from a brain embolism. He is now living in California and painting crap."
The emerging, famous, Sarah Lucas. I've seen some pretty trinkets in Colony Room by her.You told me once:"Famous?The only thing she is."
" I certainly didn't say that Sarah Lucas is the only famous YBA. I said that very likely she wouldn't be famous for long. "
And what about Damien Hirst?he is the new number one of the creative scene(a fact that Francis perfectly perceived in his last days )
"Damien has a lot more substance – but it's a essentially a literary talent – more about making metaphors than making what we recognize as art. Jeanette Winterson said in print the other day that D Hirst's work always reminded her of Webster's play 'The Duchess of Malfi'. Smart girl. I was quite cross – I've been saying the same thing for some time, but I don't generate as much publicity as she does.His recent reconstruction of Bacon's triptych about George Dyer's suicide…Ican't see the point,myself."
For what my opinion mean…nothing respect you…I the same believe that still now nobody strike world- imagination like him………and that his dialogue on art with Gordon Burn "On the way to work" it's the most extraordinary exciting amazing book written in the last years…… And the italians? If you have someone,what are your preferite italian living painters?and among.. the historical?
"Among Italians [the great dead]: Morandi most of all. De Chirico, including some late work. [Gladiators, Bagni Misteriosi]. Casorati, Carrà. Among the living: Paola Gandolfi [feminist and surrealist – quite unlike any other Italian artist], di Stasio, Paolo Borghi [sculptor], Carlo-Maria Mariani [quite a lot!], Alberto Abate (I wrote about him) Carlo Bertocci, Ubaldo Bartolini. See the various books I've written for the artists represented by Il Polittico,the roman Gallery whith which I published many books. Martinelli……who is a formidably good draughtsman. "
And the so american- succesfull Francesco Clemente ?(except his"Incendi "…quite horrible,in my humble opinion)
"Clemente is essentially a New York 'high society' artist, with a charming, well-connected wife who helps his career. However his watercolors can be surprisingly good. Paladino once did some very strong paintings of witches etc., based on primitive early medieval church frescos from the Basilicata, which is where he comes from. I don't feel much enthusiasm for his sculptures. "
With all my respect. Clemente is like Sandro Chia.(and the most of modern paintings).Late picassian clumsy scrowls who claims to be modern and colours at random.Any how about …the best of all,if you have one?
"On the whole I find it very difficult to swallow any artist 'complete'. I admire individual works, not the whole oeuvre."
Thanks Edward,so much.
More than for the huge cultural treasures you gave me for the hours we spent together.Art is important.But friendship-as Francis(Bacon)would have said-is more important than art.
Cristiano Lovatelli Ravarino